Mohican State Park
Mohican State Park is located in northeastern Ohio, roughly halfway between Cleveland and Columbus. This park welcomes visitors with plenty of outdoor activities. The lodge and conference center gives indoor options as well. Whether planning a camping trip or a trip to just get away, Mohican State Park has choices.
Lodge and Conference Center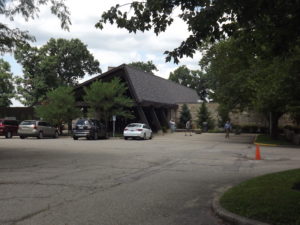 Mohican State Park is one of nine state parks in Ohio that has a lodge and conference center. This encourages more patrons to visit. First, companies use the conference center for meetings and team-building retreats. Next, families rent rooms within the lodge to host family reunions and/or wedding receptions. Lastly, an individual person or family can reserve a guest room for a time spent at Mohican.
In addition to renting guest rooms and conference rooms, the lodge allows visitors to purchase packages that include some of the activities listed below. This utilizes the park employees' knowledge of available activities, and can make things easier on families and groups visiting Mohican State Park.
Activities
Activities abound at Mohican State Park. It is best to plan ahead what items are to be done for a trip to Mohican. Water activities influence what many people do at this state park. However, plenty of activities on land are available as well.
Visitors participate in a variety of water activities, including boating, canoeing, kayaking, and fishing. Compared to other areas of Ohio, Mohican State Park is well known for its smallmouth bass fishing. Obviously, there are other fish in the waterways. A valid fishing license is required to take part.
In addition, visitors to Mohican enjoy plenty of on land events. Hiking trails and naturalist programs encourage guests to get close to nature. An adventure golf course and go kart track reinforces time spent together with others. Meanwhile, a ropes challenge course tests visitors and can be used as a team-building activity. For those interested in combining nature with modern-day electronics, there are several caches available for geocaching. Options thrive at Mohican State Park.
Mohican Sites to Visit
Two sites stood out to me for people to visit. If you are looking for a great place to stop and eat a packed lunch, look no further than the area around the covered bridge (pictured below). The covered bridge itself is a sight to see, but it also gives great views of the Clearfork – Mohican River. Picnic tables on flat ground adjacent to the river make this a great place to stop for a bite to eat.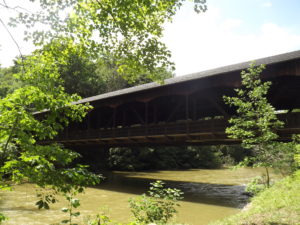 Another great place to visit at Mohican State Park is the Clearfork Gorge Overlook. Not far from the above mentioned covered bridge, the overlook gives a great view of the valley below. Be sure to stop by these two places when you visit Mohican!
Summary
Mohican State Park amazes those that visit. Moreover, it is a great place to get away with a family or group. Activities encourage guests to get outside and enjoy nature. The lodge and conference center allows people to just "get away," and plenty of options are open there for someone if weather is bad.
Ben's Visits: July 2017