Hueston Woods State Park
Hueston Woods State Park is located in southwestern Ohio. It is famous for its hiking trails, majestic lake, fishing, and boating. There is also several unique features, including fossil hunting and golfing on a full-length golf course. Many wonderful opportunities are available to get visitors out into nature and away from the busyness of everyday life.
Nature Trails
Hueston Woods has dozens of miles of hiking trails available for walkers and bicyclists. Most of the trails change in elevation somewhat, but it is moderate for most hikers . Many of the twelve hiking trails are less than one mile, but several are longer, and there is always the possibility of completing more than one trail to add to your mileage if you wish.
There is also a twelve mile long mountain bike trail available, and its difficulty ranges from easy to hard. There are mountain bike rentals available for those who wish to use the trail but do not have their own mountain bike.
Hueston Woods State Park Nature Center
Another amazing piece of Hueston Woods State Park is its nature center. The nature center provides visitors with access to information and maps about the area. Several activities help include young children. In addition, multiple species of local animals give people up close looks at them. These include turtles and snakes. Remember to stop at the nature center when you visit!
Raptor Rehabilitation Program
Immediately around the Hueston Woods State Park Nature Center is its Raptor Rehabilitation Program. This program gives injured birds a safe place to rest and recuperate. Some residents could include hawks, owls, and eagles. A couple of these birds will stay at Hueston Woods indefinitely due to their injuries. Most others, however, will find their way back to the wild. Make sure to not miss this when visiting Hueston Woods!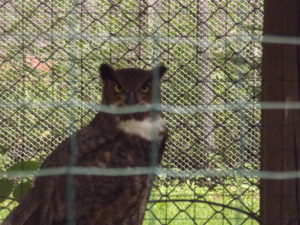 Golf
One activity available at Hueston Woods State Park that is different than many state parks is an 18-hole golf course. There are six state parks in Ohio that have a golf course, and Hueston Woods is one of them. The Hueston Woods golf course is just over 7,000 yards long, and features many magnificent locations that are indicative of the area. To get more information including fees, or to sign up for your own tee time, visit here.
Fossil Hunting
Hueston Woods is unique in its availability of fossil hunting as an activity for visitors. Glaciers once covered the Hueston Woods area, as much of Ohio at one point, leaving behind fertile soil and limestone deposits. Multitudes of marine animal fossils left in the Hueston Woods area provide people that come to the state park exclusively for fossil hunting plenty to hunt for.
Boating/Swimming
Hueston Woods State Park surrounds Acton Lake, a nearly six hundred-acre lake created by the dam on Four Mile Creek. Hueston Woods allows for smaller boats (those under 10 horsepower) to be on the lake during seasonal times. There is a fishing pier on the western part of the lake that is available to fishers. Some of the most commonly caught fish are bluegill, crappie, large mouth bass, and catfish.
Natural Features
Hueston Woods is known for its limestone and shale deposits, along with beech and sugar maple trees. There is a 200-acre forest that is unique to the southwestern Ohio region, and the large beech and sugar maple trees rise above ferns, wildflowers, and other low-lying vegetation. As with many state parks, the scenery is the best part!
Summary
Hueston Woods State Park is a wonderful place in southwestern Ohio to get away for a day or more and see the great outdoors. Events throughout the year give you plenty of reasons to visit. Camping is available for those that wish to stay overnight, and rooms are available at the lodge for those who wish have modern amenities while still being out in nature. Whatever outdoor activity you are interested in, Hueston Woods probably has it available!
Ben's Visits: July 2014, June 2017