Nelson Kennedy Ledges State Park

Nelson Kennedy Ledges State Park in Northeastern Ohio
Nelson Kennedy Ledges State Park is a small state park in northeastern Ohio. It covers only 167 acres in Nelson Township (near Garrettsville and Hiram), but provides park goers with a rugged terrain. In addition, several plant species and trees grow here that are uncommon for Ohio. Unique rock formations are common in Nelson Kennedy Ledges, and this is what most people recall from their visits to the park.
*Note: I have seen this state park called Nelson Kennedy Ledges and also simply Nelson Ledges.*
Name
One of the first items that some question about this state park is the name. Nelson Kennedy Ledges State Park is unique in its name. The name is a combination of purchases made by the state of Ohio in the 1940s. The Nelson Ledges area was purchased by Ohio in 1940. In addition, the Kennedy Ledges area of land was purchased in 1948. One year later, Nelson Kennedy Ledges State Park was created to preserve this 167-acre plot of land in northeast Ohio.
Ledges is a perfect addition to the name of this park. In this regard, hikers must be extremely careful while out on the trails.
Hiking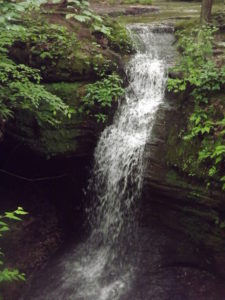 Hiking is the most-widely used recreation at Nelson Kennedy Ledges. Nelson Kennedy Ledges houses a very rugged terrain, especially for an area that is part of the Glaciated Plateau in Ohio. This leads to somewhat treacherous opportunities on hiking trails. Four trails cover the state park, named by different colors (White, Yellow, Red, Blue). The White Trail is easygoing, while the Yellow and Blue are a little more intense. The Red Trail is a difficult half mile for those looking for a challenge. Some rock climbing is involved on the Red Trail. Be sure to visit Minnehaha Falls while at Nelson Ledges (see above picture).
Trees and Plant Life
Nelson Kennedy Ledges State Park houses several tree and plant species that are not common elsewhere in the Buckeye State. Moreover, the climate allows for multiple types of trees and plant life that are typically found in more northern areas. Yellow birch and Canadian hemlock trees are two examples of the trees that fall into this category.
In conclusion, Nelson Kennedy Ledges State Park is a one of a kind park. Its flora, fauna, and history make the park interesting for those that visit and investigate. If you have had experience at Nelson Kennedy Ledges, tell me about it in the comments below.
Ben's Visits: July 2017