Malabar Farm State Park
Malabar Farm State Park is a different kind of Ohio park. Malabar Farm is an actual farm. It offers activities that a typical farm would offer, but also has activities that would be expected from a park. Hiking and camping are available, but so are guided tours and a farm market. In addition, barn dances and an annual maple syrup festival greet visitors at Malabar Farm.
Malabar Farm State Park
Pulitzer-prize winning author Louis Bromfield established Malabar Farm in 1939 when he purchased three farms in the area. Bromfield fell in love with farms and the idea of self-sufficiency. Several of Bromfield's works later in life talked about life at Malabar Farm, including Pleasant Valley. This work was his first non-fiction piece.
The author wrote in Pleasant Valley that he hoped the state of Ohio would one day own Malabar Farm, and eventually the state fulfilled his wish. In 1972, Ohio accepted the farm as a gift, and in 1976 it became a state park.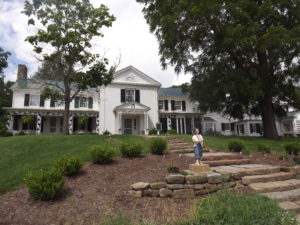 A main attraction at Malabar Farm is "The Big House," which was Bromfield's home. Guided tours are available for a small fee. In addition, nearby barns offer a petting zoo, and trails through the woods are ideal for hikers and trail runners.
Malabar Farm Restaurant and Farm Market
Within the borders of the state park, the Malabar Farm Restaurant provides a wonderful dining experience. The restaurant uses fresh ingredients from nearby farms (including Malabar Farm) and sits in an 1820s brick home. The option to dine inside or outside is available. It would be a good idea to call ahead and potentially make a reservation if you know when you will be at the restaurant.
Immediately next door to the Malabar Farm Restaurant is the Malabar Farm Market. Fresh produce from the farm is available for purchase. The market is cooled by a spring that runs nearby and through the stand. If you stop at the restaurant, be sure to check out the farm market and possibly buy some good produce!
Shawshank Trail
One unique aspect of Malabar Farm State Park is the pieces of the Shawshank Trail that it holds. The Shawshank Trail is a series of fifteen filming sites from the movie The Shawshank Redemption. Several stops in and around Malabar Farm State Park greet visitors. These include the Pugh Cabin and the site of the famous oak tree at the end of the movie. A field across the road from Malabar Farm held the tree. Unfortunately, storms damaged the oak tree in 2011 and then again in 2016. Finally, the owner of the farm the tree sat on had the tree removed in April 2017. If you are a Shawshank Redemption fan, be sure to stop at these sites and others near Malabar Farm.
Ben's Visits: July 2017